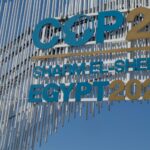 25/11/2022
COP 27 – JuST Institute launching and outcomes on adaptation finance
From 6th to 18th November, the Egyptian coastal city of Sharm el-Sheikh welcomed Heads of State, ministers, negotiators, CEOs, climate activists and civil society representatives, among others, for the COP 27. This gathering held on the most climate-vulnerable continent was an appropriate moment for the official launching of the JuST Institute. Present at COP 27, our members the Global Environment Facility and BNP Paribas highlighted their joint vision on the key role inclusive finance can play in climate change adaptation. The JuST Institute can be pivotal to mainstream climate and biodiversity positive finance for smallholders. The objective is to support the generation and strengthen of resiliencies for the ones that are among the most climate-vulnerable.  Through the lens of adaptation finance, JuST Institute members and projects partners participated to several panels on the topic. Besides adaptation, this African COP was seen as a unique opportunity to loss and damage finance issues. Many stakeholders, like low-lying Pacific islands had high hopes on the establishment of a loss and damage dedicated facility at the COP 27 under the UNFCCC financial mechanism.
In this short article we provide a brief overview of the JuST Institute participation at COP27, of some of the events and panels on climate change adaptation for smallholders, We sum up past progress on adaptation at national and institutional levels before highlighting some commitments made at this years' COP.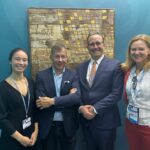 From the right to the left: Claudia BELLI (BNP Paribas), Jason SPENSLEY (GEF), Antoine SIRE (BNP Paribas), Marine CARBONNEL (BNP Paribas)
Thought its members, the JuST Institute was present at Sharm el-Sheikh, participating to several panels. Three of them are highlighted here. The JuST Institute had the honour to be hosted in panels with leading institutions and innovators engaged in climate finance, among which GAWA Capital, IFAD, Scale for Resilience,  GEF,  BNP Paribas, Climate Policy Initiative, responsAbility, Islamic Development Bank, Finca, and YAPU Solutions.
Laurence Pessez (BNP Paribas Head of Corporate Social Responsibility) officially launched the JuST Institute, echoed by Jason Spensley (GEF Senior Climate Change Specialist), together at the panel « Catalyzing inclusive microfinance for climate adaptation at scale », held at the GCF-GEF joint pavilion the 9th November.
For Laurence Pessez, the JuST Institute allows a « win win win situation«  for smallholder farmers, microfinance institutions and their funders. She highlights that practices such as crop rotation, agroforestry, or the use of organic fertilizers can enhance the risk profile of borrowers. These practices  have to be promoted as they provide resilience to the whole value chain. Jason Spensley also underlines the need for transparency. A virtuous circle will be built with « certification scheme based on robust indicators that are commonly shared accross sectors to ensure green adaptation and resilience impact ». As mentioned by BNP Paribas and the GEF, the sector needs to mainstream projects through a permanent entity which pulls resources together and to climb up the value chain.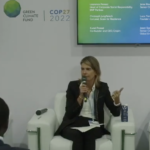 The panel welcomed BNP Paribas, GAWA Capital, IFAD, and Scale for Resilience.  The speakers discussed the powerful opportunity for inclusive finance to participate to strengthen resilience of local vulnerable populations, particularly small holder farmers, by increasing their access to capital at accessible terms for transitioning to climate resilient and nature positive practices. This panel explored opportunities, good practices, and challenges in catalyzing inclusive and accessible microfinance for localized climate adaptation and resilience impacts at scale. IFAD presented 3 projects that are focused on climate adaptation through inclusive finance, two of which will be implemented together with the JuST Institute, BNP Paribas, Grameen Credit Agricole Foundation, and YAPU Solutions.
On a dynamic workshop format, lead and moderated by Scale for Resilience, the Resilience Hub hosted a diversified panel on "How to finance resilience for smallholder farmers at scale? The role of regulation, risk disclosure and locally led adaptation". This panel gathered Climate Policy Initiative, ResponsAbility, GAWA Capital, the JuST Institute with BNP Paribas, and the GEF.
"The JuST Institute is a piece of the solution, so we have the ecosystem working together to drive into accessibility and climate impact" as Jason Spensley mentionned.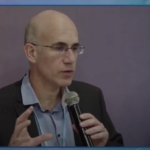 Organised by IFAD, and moderated by the Islamic Development Bank, IFAD's Pavilion hosted a panel on "Helping Smallholders Adapt: Inclusive financial innovation and smallholder investments". This panel gathered speakers from BNP Paribas, Finca, IFAD, and YAPU Solutions. Participants discussed financing models, blended finance, de-risking tools, specific financial products and technology for advancing smallholder climate adaptation finance.
The key need of traceability and reporting, as well as the capacity of responding to actual climate risks, have been discussed as fundamental items for climate change adaptation finance for smallholders. Participants illustrated how enhanced climate risk management can unlock finance for smallholders, and how products such as Sustainability Linked Loans address smallholders needs for climate resilience including biodiversity. Marc James de Sousa-Shields (IFAD) highlighted the importance of analysis of ROI for climate solutions, the supply chain and the transfer of  know how.
« food traceability of supply chain is key to reach smallholders » as mentioned by Sébastien Soleille (Global Head of Energy Transition and Environment at BNP Paribas), that added  « we just launched the JuST Institute to integrate climate resilience and biodiversity related risks into microfinance, and ensure that the microfinance institutions we finance take into account climate and biodiversity risks of smallholder farmers and that their financing is sustainable at climate resilient and biodiversity perspective and economic level« ,  » with the aid of our partners we work to convince more and more institutions to join the JuST Institute to ensure that the sector, each time finance smallholder farmers, work on climate resilience and biodiversity »
particularly at the resilience hub gathering IFAD, GCF-GEF, FAO, and GCA, among other institutions. Several panels have delivered precious conclusions through thematic days and side events for topics such as Finance and Biodiversity.
We would like to highlight in particular the GEF-GCF pavillon, the Resilience Hub , the Food and Agriculture Pavilion  and IFAD at COP27 , where many panel replays are available.
We very welcome the Thematic Days such as Adaptation & Agriculture Day, and the Biodiversity Day, as well as the Just Transition roundtable session at the Climate Implementation Summit.
In this section we highlight two panels.
The workshop on "Improving productive reality at Scale: The need for digital decision support for smallholder farms and beyond" gathered YAPU Solutions, Mercy Corps, the Global Shea Alliance, Google and the CGIAR. Many digital solutions were presented, such as Google's  Satellite Imagery. But many challenges are still to overcome, among them bringing together an efficient ecosystem of technologies.
The authors of "Lessons from Local Adaptation Practice" and local adaptation practitioners were gathered to release the report. Nine case studies of local adaptation practices were presented and discussed. Among them, the example of Vaishali tai, a subsistence farmer in western India highlights the complexity of locally led adaptation. It underlines the need for local tools and limits of existing measurement approaches, such as Normalized Difference Vegetation Index (NVDI) indicator of greenness for nature-based solutions, which does not allow to differentiate between native and invasive vegetation.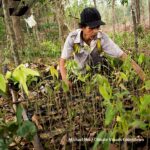 Large overview on adaptation finance progress
if you want to know more, we provide here below some further highlights and information
Adaptation finance has too slowly grown in the COP outcomes since 2009.
At COP 15 (2009), industrialized countries committed to mobilise USD 100 billion a year by 2020 to climate finance towards emerging countries. This goal has never been fully reached to date (83.3 billion only in 2020 as reported by OECD). Moreover, no specific target was set on adaptation finance at this time. The USD 100 billion per year commitment was then reiterated and extended to 2025 at COP 21 in Paris. President Macron announced that France's support would increase to USD 6 billion annually from 2021 to 2025, with one-third dedicated to adaptation. The Paris Agreement (Article 9.4) states that the provision of scaled-up financial resources should balance adaptation and mitigation.
In the meantime, several countries have adopted National Adaptation Plans (NAPs). They are thus committed to adapting and building resilience under the UNFCCC. However, adaptation has been integrated with a heterogeneous quality of instruments. Having a 50/50 balance with more extensive support to the most vulnerable countries has become a political aspiration.
Since 2014, the UN environment program (UNEP) has been urging to intensify adaptation finance through its Adaptation Gap Report (AGR). In the last report, UNEP warned that adaptation costs in developing countries could hit USD 300 billion a year by the end of the 2020s, compared to the USD 16.8 billion reported by UNEP in 2021.
At COP26, countries adopted the Glasgow Climate Pact. Among several mitigation objectives on the road to 1.5°C, the pact calls for a doubling of financial commitments to adaptation by 2025 to help developing countries become more resilient and adapt to the impacts of climate change. Despite being sufficient, it was significant progress on Climate Finance as a whole and for Adaptation in particular. The Glasgow-Sharm el-Sheikh work programme was launched to make and measure progress toward the global goal of adaptation and resilience. The programme supports communities and countries to access knowledge and tools. It was created to establish a transparent and shared understanding of accelerating local, sectoral and national action and assess collective progress towards achieving the GGA.
Ahead of COP 27, the Africa Adaptation Acceleration Program was expected to strengthen through new commitments and partnerships.
The African Bank of Development launched the African Adaptation Acceleration Program (AAAP) in 2021 at the Climate Change Adaptation Summit organised by the Government of the Netherlands and the Global Center of Adaptation (GCA).
This program of five years aims to mobilise USD 25 billion to accelerate and scale up adaptation actions across the continent. Since 2021, AAAP has integrated climate adaptation through more than USD 3.5 billion investments in 19 countries.
The AAAP works on four dimensions to achieve transformational results: climate-smart digital technologies for agriculture and food security, African infrastructure resilience acceleration, youth empowerment for entrepreneurship and job creation in climate adaptation and resilience,  and innovative finance initiatives for Africa.
However, as underlined by the Global Center on Adaptation CEO Patrick Verkooijen: « Adaptation funding is moving too slowly to close the investment gap in Africa, even as the costs of our inaction continue to rise. With two months until COP27, we need to increase the volume and diversity of capital for adaptation in Africa by fully funding the AAAP program ».
Ahead of COP 27, UNFCCC highlighted that "Multilateralism and collaboration between governments, international organisations, international financial institutions, civil society and the private sector is essential to ensure more support for adaptation." Some stakeholders had expressed their expectations for this year's COP, like WWF.
Besides the renewal on the engagements for 1.5°C, several countries announced their will to move forward on the Global Goal on Adaptation.
The Netherlands confirmed its announcement to increase its annual climate finance to EUR 1.8 billion by 2025. The Netherlands committed to devoting half of its all-grant climate finance to climate adaptation.
The United Kingdom announced the tripling of adaptation finance from GBP 500 million in 2019 to GBP 1.5 billion in 2025.
Italy already allocated 56% of its climate finance to adaptation in 2020. The country plans to triple its total climate finance commitment to USD 1.4 billion for the next five years. From 2022 to 2026, it will orient EUR 840 million per year to climate finance for emerging countries.
Canada reiterated its willingness to commit USD 10 million to an initiative of the Food Agriculture Organization to promote climate-smart agriculture and help rural communities in Egypt.
Australia announced an AUD 10 million in support of a community-based adaptation program in Southeast Adia and the Pacific.
New pledges, totaling more than USD 230 million, were made to the Adaptation Fund and a total of USD 105.6 million of new funding was announced to support the Global Environment Facility funds targeting low-income states.
Few pledges to AAAP were confirmed and reinforced.
Dutch Prime Minister Mark Rutte confirmed that the Netherlands would contribute EUR 110 million to the AAAP, African Development Bank's Climate Action Window (CAW).
The United Kingdom also announced the participation of GBP 200 million in the CAW.
Germany announced it's with t contribute EUR 40 million to the CAW. The decision is subject to parliamentary approval.
Sharm el-Sheikh has been the setting of a few institutional agreements to cooperate on adaptation.
COP 27 Presidency launched the Sharm-El-Sheikh Adaptation Agenda, with the ambition to address the adaptation gap and achieve a resilient world by 2030. at/biAW8
The European Bank for Reconstruction and Development (EBRD) and the Global Center on Adaptation (GCA) signed a Memorandum of Understanding (MoU) to cooperate on the AAAP. In particular, their internship will focus on innovative financial products and result-based finance. On the same day, a similar MoU was signed between The International Fund for Agricultural Development (IFAD) and the Global Center on Adaptation (GCA) to join forces to strengthen adaptation and resilience in agriculture, with a particular focus on Africa.
COP 27 was also the opportunity for IFAD to release its assessment report towards net zero, which is part of the Paris Alignment Roadmap. "I am thrilled to announce that IFAD investments are net–negative and contribute to global efforts to curb greenhouse gas emissions. This highlights a significant yet under-recognized benefit of investing in small-scale agriculture," said Jyotsna Puri
Besides adaptation, the main outcome of this COP is the historic deal to establish a loss and damage fund to be operationalized in the coming period. This fund dedicated to addressing the residual damages of insufficient mitigation and adaptation action is essential. Governments also agreed to establish a 'transitional committee' to make recommendations on how to operationalize both the new funding arrangements and the fund at COP28 next year.
The UNFCCC displays gathers the decisions taken on its website. Many of the agreements must be operationalized in the next period, and at COP 28.
To sum up 
The present Climate Crisis and the challenge ahead are huge. The least responsible ones are the most vulnerable ones.  It is an  intergenerational injustice that needs to be treated as an emergency. The progresses done in the last years and today are way too small, too slow and too unequal. Climate change is a complex problem that can be tackled only with multi-stakeholder approach, dialogue, and cooperation. The COPs are our forum of cooperation and we wish they will be able to deliver very soon the path of change and related engagement that our planet, society, and economies need so much.
COP 27 remains a milestone event to share expertise to build just transitions. Each participating institution is developing precious knowledge of complex topics and is encouraged to build partnership and coalitions.  Many panels highlighted the need for more transparency, capacity building and adapted financial services. Thus, COP 27 was the opportunity to strengthen partnerships between crucial actors and act to find just and sustainable solutions to the present climate crisis, where the most vulnerable ones are part of the actors of needed change.